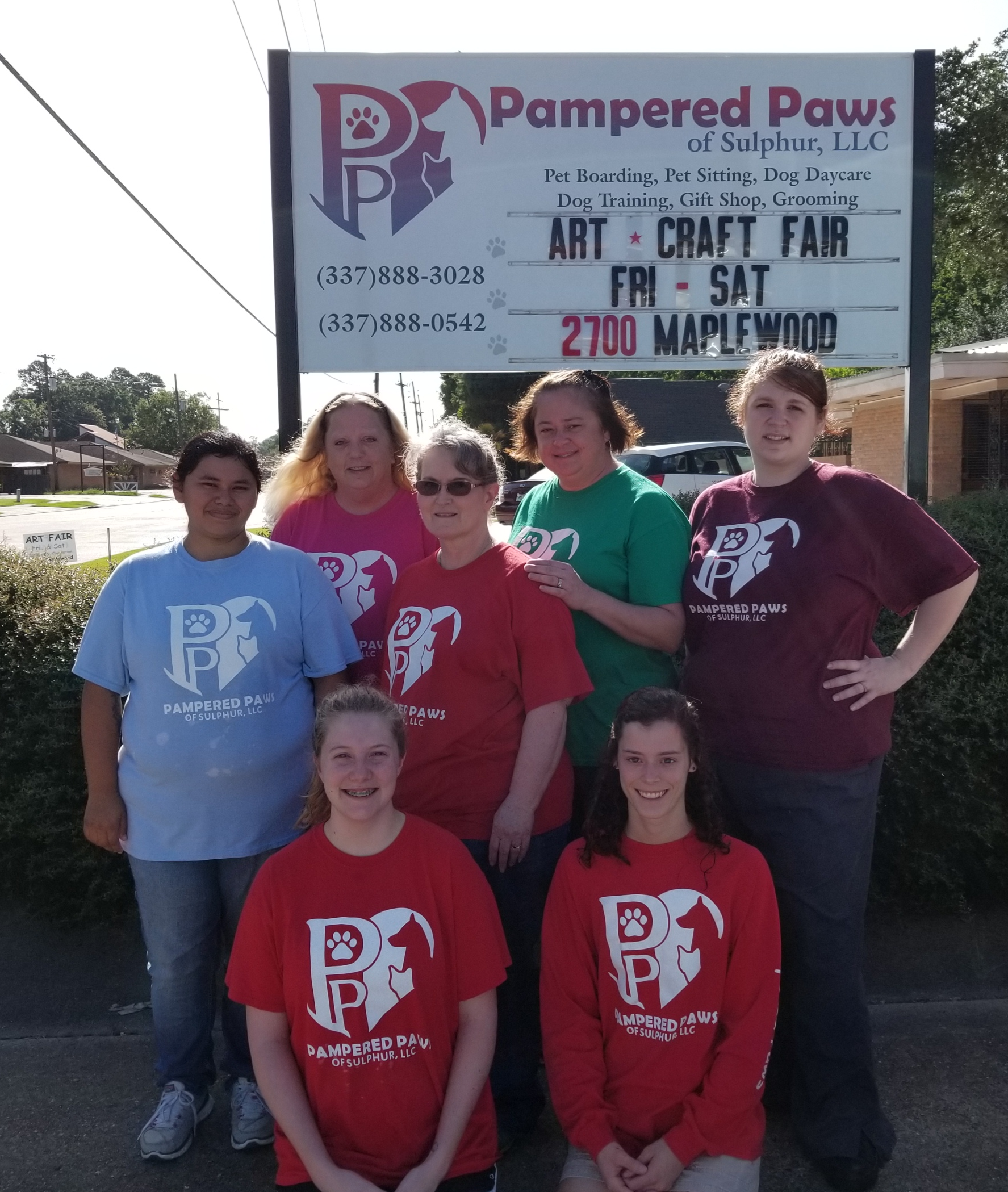 Pampered Paws opens for pets
Pampered Paws
When Debbie and Geoff Russell of Sulphur, Louisiana, began planning for their new company in 2014, they envisioned a shop that provided day care and in-home pet sitting for cats and dogs as well as a retail store carrying specialty items for people's furry friends. After two years of operations, over 1300 families have trusted Pampered Paws, LLC for day boarding, home visits, grooming, obedience training and locally sourced pet-themed gifts.
Consulting with the LSBDC at McNeese was one of Debbie's first steps in her adventure. With the help of Donna Little, center director, Debbie fine-tuned her financial projections and wrote a business plan to take to their banker.
The purchase of a home with plans to remodel it into Pampered Paws, LLC, a commercial boarding establishment, turned into a mountain of paperwork, permits, parking requirements and specialized adaptations. But the Russells knew that Sulphur was a growing community with a need for pet services, so they persevered. Debbie handled the paperwork and met the contractors and inspectors and kept faith that the shop would come into being.
Customers like the environment of the facility and the consultative approach to caring for their pets. They also enjoy touring the kennels and fenced exercise yard so they can see everything for themselves. Debbie has developed cage cards to track when dogs are walked and fed as well as report cards to show pet parents how their little one has behaved while visiting Pampered Paws. She's researched vaccination standards and set requirements for the animals; her system lets her track which records are needed before she accepts a reservation. Customer referrals are her best marketing tool. She also relies on her on-premise signage, a punchcard incentive program and occasional Facebook boosts.
Within a few weeks of opening her doors, Debbie realized that dog grooming would be an important part of the shop's operations. The shop now has two full-time and one part-time groomers. From tiny toy poodles to large hounds, the staff washes and beautifies dozens of dogs each week.
Today, Debbie has six full-time employees and two part-timers. The facility operates seven days a week. Debbie says that finding the right people who truly care about animals and follow safety policies is a challenge, but it is a worthwhile endeavor when the customer and pet are reunited after visiting Pampered Paws.