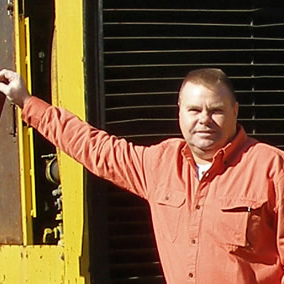 Eddie Strokes
Railway Equipment Services Inc.
A sign in Eddie Stokes' office says "This is the Office of a Serious Railroader. Please Excuse the Occasional Daydreaming."

After a few minutes with Stokes at Railway Equipment Services, his Oil City railroad company, he proves that he is indeed a serious railroader whose "daydreaming" has made his company a leading provider of railroad track maintenance services and surplus equipment in the United States.

For 10 years, Railway Equipment Services has had an exclusive contract to buy all used track maintenance equipment from Burlington Northern Santa Fe, the nation's second largest railroad. That brings roughly 25 percent of the surplus track equipment in the United States into his shop. "The business employs 12 people with prospects for adding between four and six more over the next year or two," Stokes said.

After creating Railway Equipment Services in 1993, he recently expanded thanks to the help of Louisiana Small Business Development Center at Louisiana State University Shreveport business consultant Bob Boling, who helped package an SBA-guaranteed loan. "I couldn't have done it without him [LSBDC Business Consultant]. It took him a week to do what took me six months to do [on a previous SBA loan]," said Stokes.

Stokes first went to work after graduating from high school, inspecting track and making repairs for the Southern Pacific Railroad. Through the years, the larger railroads consolidated, leaving more short-line and industry railroads without maintenance departments. Stokes picked up extra jobs maintaining those tracks on weekends and vacations, and eventually he saw more business opportunities buying surplus equipment such as brush cutters and ballast tampers at auctions.

In 1993, he found some property in Oil City near new oil field equipment businesses and opened a shop and yard. He got his first SBA loan in 1997, but raising capital has always been a challenge because most bankers didn't understand his niche in the railroad business. Stokes' banker at Citizens Bank & Trust in Vivian directed him to the LSBDC in 2009 as he was expanding his fleet leasing department, a growing need within the industry.

In addition to Burlington Northern, Stokes also buys & reconditions used equipment from other large railroads including Union Pacific, CSX, and Norfolk Southern. Railway Equipment Services does business — either buying and selling equipment or providing track maintenance — with about 500 large, regional, and short-line operators and railroad construction companies in the U.S., Canada, and Mexico. Stokes has also expanded his trucking line to haul heavy railroad equipment.

Stokes' SBA loan closed in early 2010 around the same time billionaire investor Warren Buffett's company Berkshire Hathaway completed the purchase of the Burlington Northern. Buffett sees a bright future for the railroad as the economy recovers and Stokes agrees. Railway Equipment Services is on track to increase sales by about $400,000 this year. And despite growth in trucking and air cargo, trains move the greatest percentage of the nation's freight: 42 percent. "There's no way you can replace all of the freight trains haul with trucks," said Stokes.