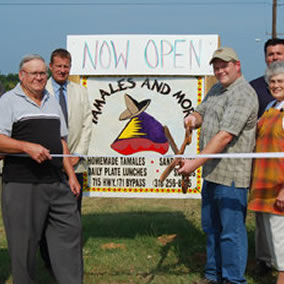 Glen Starks
Tamales and More Restaurant
Glen Starks is a true entrepreneur. He is driven by the challenge of creating a business from scratch, which best describes his efforts toward seeing his latest dream come true— a full-service restaurant in Many, LA. This isn't Glen's first time down the path of business management. He has prior experience in owning and operating one successful and one not-so-successful business. In the spirit of entrepreneurship, Starks brushed off the prior setback and forged ahead. His biggest challenge has been convincing others to see his dream as he sees it. One bank agreed to finance the purchase of property, which held three rotting houses on it. But, the bank declined to fund Starks' effort to clear the land and start the construction of his large full-service restaurant. However, he was able to secure financing from another bank to renovate two of the houses and turn them into revenue-producing rentals, but nothing toward his ultimate goal of opening a tamale restaurant.

Perplexed by the rebuttals from the banks, Starks turned to an "old friend," who had assisted him years before in his successful launch of another restaurant— the LSBDC at Northwestern State University. Director Jim Kilcoyne worked with Starks to assess the situation. Eventually, a meeting with the second bank was instrumental in finding common ground that all parties were happy with. Instead of plunging into the capital-intensive large establishment, Kilcoyne suggested dividing the project into phases. However, the bank was still not convinced that Many, LA could support another food establishment.

To get a better understanding of the market, the LSBDC at NSU conducted a direct survey in Many as part of its market analysis. The results indicated demand existed for a small, lunch-only take-out stand. This led to Phase 1 of what would become a three-phase project, and the launch was more successful than anticipated. First-month sales soared past $25,000. Immediately, Starks wanted to plan for and begin moving on Phase 2 — a small sit-down establishment to meet the demand of those not wanting take-out orders. It would take more capital investment, including an extension on the client's line of credit (LOC), but Starks was able to secure additional financing and so began Phase 2. This included both the sit-down restaurant and the ability to increase tamale production. The bank agreed to extend the LOC following a meeting with Director Jim Kilcoyne, who assured the lender the LSBDC would be actively involved in the endeavor. A mere six months after contacting his "old friend," Starks invited the LSBDC at NSU to share in the joy of the official grand opening of phase two. Annual sales are on pace to approach $500,000.

Needless to say, during the celebration, Glen took Director Kilcoyne aside and asked about planning the third and final phase of the project. One cannot bridle that entrepreneurial spirit!