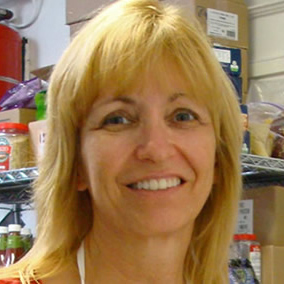 Jennifer Gieseke
Healthy Chef Meals
Jennifer Gieseke turned her passion for healthy food into a full-fledged business with the help of the Louisiana Small Business Development Center at LSU Shreveport. Jennifer Gieseke always had a passion for cooking, but with active children and husband, Ken Gieseke, often away on business trips, she found it hard to find time to prepare meals in advance. Once a month, she would prepare 30 meals, freezing them until the family was ready to eat. "After a busy day, it was such a relief to know that dinner was prepared and all I needed to do was heat it up and make a salad," said Gieseke.

It was this approach to cooking that led Gieseke to becoming a personal chef and eventually starting Healthy Chef Meals. As the first personal chef in the Shreveport/Bossier area, she found pleasure in helping other families take the stress out of cooking family dinner.

But it was in 2010, when she joined her then 16-year-old daughter in adopting avegan diet that her vegetarian journey began, starting with eliminating all meat. "The health benefit statistics I read were truly amazing to me and I soon removed all animal products from my diet. Since starting this journey my weight has stabilized, my energy level has increased and I feel great," said Gieseke.

After more than a year as a vegetarian, Gieseke decided to turn her new lifestyle into a full-fledged business. She contacted the Louisiana Small Business Development Center at LSU Shreveport to help get her new business off the ground. "The group was extremely helpful in providing me with start-up information regarding financing and compliance with local state and federal tax codes and laws," said Gieseke.

The LSBDC helped Gieseke develop a business plan, prepare cash flow projections and conduct market research. She obtained a $50,000 commercial loan, as well as invested $50,000 of her own money to jumpstart Healthy Chef Meals, an all natural meal delivery service specializing in organic and cholesterol free meals. The service delivers a week's worth of food in nine 24-ounce containers. Meals are also available for pickup at the Healthy Chef headquarters in downtown Shreveport.

Healthy Chef provides a wide selection of heart healthy, gluten free meals like Blackened Vegetable Gumbo over Basmati Rice, Tahini Millet Loaf with Cashew Gravy and even desserts such as Louisiana Blueberry Peach Cobbler.

While getting the business up and running was Gieseke's initial concern, she returned to the LSBDC for help with operational and marketing assistance. The center helped, Gieseke get certified in the Small and Emerging Business Development program, provided by Louisiana Economic Development. Through this program, Gieseke received partial funding to get training on Quickbooks and is now running her business more efficiently. I found the workshops invaluable as well as budgeting the spreadsheets," said Geiseke. The LSBDC also helped with marketing and streamlining the ordering process. "

Since opening in July, Gieseke has created 8 jobs.