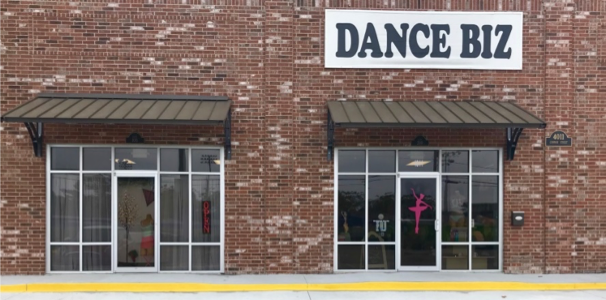 McNeese SBDC helps Dance Biz get started
Dance Biz
Dance studios have become popular in southwest Louisiana over the last few years. Due to the popularity of dance in the area, there has been a growing need for dance apparel and accessories. With a daughter in dance, Chris and Trisha Mier saw the need to re-open Dance Biz. The store had been around for years. Trisha Mier would shop there, when it was open, for her daughter.
"I was unsuccessful with online shopping. It was hard to get the right size pointe shoes and leotards without trying them on," said Trisha Mier. "I saw a need for a place that was affordable, offered fittings and great customer service."
It took about a year to open Dance Biz. This included creating a business plan, acquiring the proper permits and the time it took to complete the building. The process to start a business is not always an easy feat. It can be a bit overwhelming and hard to determine where to start.
"I don't think we could've done it without the LSBDC. Our consultant broke it down in simple terms. She gave us tasks to complete and we would go back and review those tasks during our follow-up consultation."
One of the challenges they faced during the process was determining a realistic projection of financials for the business. Trisha and her husband had to do their research.
Since its opening, Dance Biz has provided products to dance studios, theater groups, liturgical dance groups, school dance lines and local casinos. Some casino employees purchase compression tights since they are on their feet for long periods of time. The store sells swimming apparel, as well.
Trisha Mier found the LSBDC at McNeese to be a great resource. She encourages anyone who would like to start or expand their business to use the services offered at the LSBDC. Mier believes that starting a business can work for anyone who believes in their product and is willing to put in the time and effort.
She offers this advice:
"Be realistic about your business plan. It is important to have the funds to run your business in the beginning than after you've started. Don't assume that the money you will make will cover some of your immediate needs," said Mier.